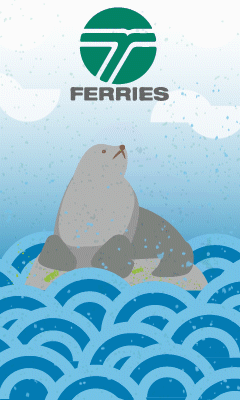 "Two forces have combined to cause the dawning of a new era for poster designers; digital screens have infiltrated our train stations and airports, posing a welcome new challenge, meanwhile social media platforms have embraced video content and the animated gif. Rather than spelling the end for the poster as we know it, a generation of designers are embracing these technologies. Graphic artists from around the world are teaming up with animators and bringing their combined experiences together to create a seductive new form of communication—the moving poster." - Luc Benyon, AIGA
Objectives:
Through research, you will define your audience, poster placement, and specific illustration or photo direction based off your findings Develop composition and problem solving skills Practice typography with attention to detail Develop digital animation skills. - 7 weeks
Illustrator | After Effects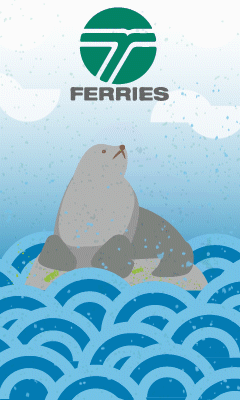 I am not someone who takes the ferries every day I take them at most twice a year. But one thing I know about Washington is that we have amazing wildlife around us all over and the Ferries happen to capture a lot of the sea life we have.
My overall concept was the views you would see while on a Washington Ferrie and how amazing the wildlife and sea life we have around us in Washington. I went with a geometrical style to fit in with their overall logo and I used their color palette given on their website. As for location, I wanted these to live on their website, phone app, and on screens outside before you go onto the ferry.